Silver and Bronze for Becky and Shem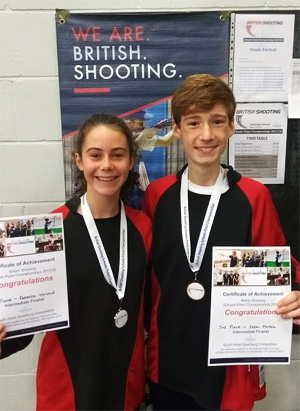 Junior members of Dorchester R&PC Becky Warland and Shem Martin won Silver and Bronze medals in the Intermediate age group at the British Shooting South West Schools Championships held on 11 October 2017 at Leweston School.
They are both 14 and in the same year at Thomas Hardye School. They are coached by Alan Brown at the Club.
Becky's mum, Jane, explains the competition and the excitement of the day; 'The shoot is at 10m with air pistols. The qualifying round is 20 shots. The top 8 qualify for the final. A high pressure ISSF style final follows with scores reset to zero from the qualifier. 2 series of 5 shots, then pairs of shots on command with the athlete with lowest running total eliminated after each pair. Only the top four finalists in each age group progress to the National Final'.
'Shem and Becky both shot incredibly well in the qualifying round, with Becky shooting 184 ex 200 to be placed highest qualifier, and Shem 165 ex 200 to qualify in third. In the final, Shem shot a perfect 20 no less than three times in the paired shot elimination stage to finish in bronze medal position. It was quite a fight for silver! He was narrowly beaten in the last two shots by Becky who scooped the silver medal. They have both now qualified for the National Schools Pistol Final in Stoke Mandeville in January.'
Congratulations to them both, and thanks to Alan for his coaching and the DR&PC air shooters for their support and encouragement. The whole Club wishes them good fortune and success in the January National Final.
For more information about the competitions and full results follow the link: http://britishshooting.org.uk/news/title=Leweston_Pistol_Champs_Success&d=1408
RFB 15 10 17