Junior members Honor & Lucy excell at the national finals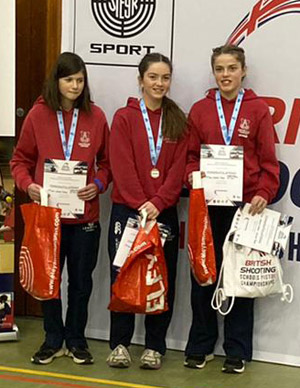 Junior members of Dorchester R&PC, Honor G and Lucy G, excelled at the national finals of the 2021-22 British Shooting's Schools Air Pistol Championships held at Chase Leisure Centre, Stafford in February. Both girls attend Leweston School, Sherborne, and are coached by Alan Brown and Phil Hobbs. They practice at Dorchester.
The shoot was at 10m with air pistols. The qualifying round was 20 shots and decides the team positions. Shooters of the top 8 scores qualified for the final which was a high pressure ISSF style format. The new British shooting target and scoring system gave a computer graphic that showed the shots of all active shooters. It also meant that spectators anywhere in the country (and presumably the world!) were able to view progress in real time on a shot-by-shot basis.
The Junior team competition was very close, with only 16 points (ex 600) separating 2nd and 4th places. Lucy shot a score of 146 (out of 200), which ensured that her Leweston team claimed bronze in that competition.
Honor qualified for both the team competition and the individual finals. (She had come 2nd in the southwest regional competition held in November 2021.) She shot 172 over her first two targets, which helped Leweston win gold in the Intermediate team event – comfortably beating 2nd placed Ellesmere College who had looked like the "team to beat" from the regional stage of the competition. This score allowed her to progress to the final shoot-out of the individual completion.
Scores were reset to zero for the final shoot out, which tested the competitor's nerves as well as their shooting ability. Each competitor shot two series of 5 shots, and then pairs of shots on command. All shots were against the backdrop of a count-down timer which allowed 50 seconds per shot. The athlete with the lowest running total was eliminated after each pair of shots. Honor averaged 17.6 ex 20 over the pairs of shots, but was eliminated after the 4th pair of shots. This meant that she was placed 5th in the National Competition.
Congratulations to both girls, especially as they were having to use borrowed guns, and many thanks to all those who enabled the competition to take place.