Dorchester R&PC v. Bayeux Tir Club at Dorchester
Last weekend [29-30th June, 1st July] Dorchester Rifle and Pistol Club shooters entertained teams from their twin town of Bayeux for the annual rifle and pistol competitions that have now reached their 22nd year.
On Friday afternoon after a disturbed ferry crossing, the Bayeux team, which are traditionally much stronger at pistol shooting, swiftly wrapped up the 10 metre air pistol competition of 30 shots for each firer in the teams of five by 1316 to 1227. Jean-Jacques Durrand was top score with 281 ahead of Dorchester's Chris Mason scoring 274.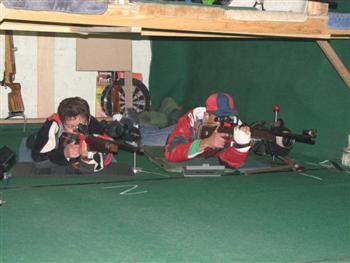 The second competition at the Sandringham Sports Centre range was the Police Pistol, a rapid and snap course of fire with air pistols at three distances. Dorchester's team had been putting in a lot of practice during the summer but, despite Steve Maros and Gill Carter coming first and third overall, the skill of the Bayeux shooters at the longest distance enabled them to come out ahead by 50 points, scoring 1145 to beat Dorchester's 1095.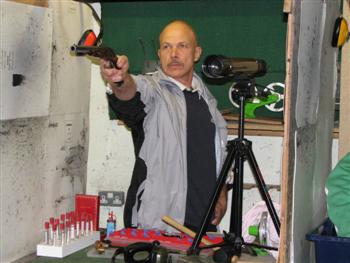 The awful weather that has plagued the whole country prevented the teams from shooting out of doors in their traditional 50m and 100 yard .22 rifle competitions at the Piddlehinton range on Saturday. Instead the teams shot at 25 yards indoors, once on the extremely difficult international targets followed by a timed 10 shots in three minutes on the slightly easier 'Cadet' targets. Some fine scores were made by Dorchester shooters with Ian Davison hitting 18 bulls eyes and 198 points, four points clear of Richard Burden. Bayeux's new shooter, Marie-Claire France, on her first visit to Dorchester was their top scorer, and third overall, with 192. Dorchester won by 949 to 902 to retain the rifle trophy.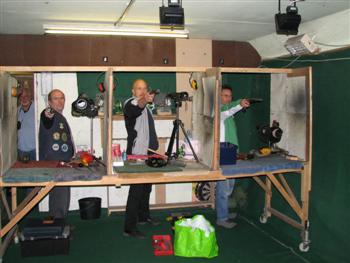 The rain also meant that the Black Powder competition, using replicas of historic duelling pistols, had to be held on the indoor range. The scoring is different from other shooting disciplines, and to take account of the problems and difficulties of hand loading these arms the best ten of each shooter's 13 shots are scored. The Mayor and Mayoress of Dorchester, David and Lynda Barrett, joined the teams and saw the measuring of the gunpowder, the loading of the lead ball, and the cloud of smoke when the pistols are fired. The skill and experience of the Bayeux team is formidable, with Marco dal Pont and Michel Huart scoring 95 and 94 respectively, and the lowest score in their team being 5 points clear of Dorchester's top scorer, Ian Davison with 84. Bayeux won the Black Powder competition by 459 to 390. The Mayor and Mayoress presented the trophies, three to Bayeux and one to Dorchester, as well as medals for the highest scorer on each team and winning team medals.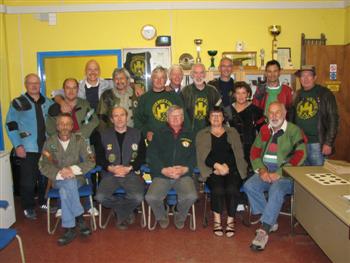 Richard Burden Chairman
Results
Dorchester v Bayeux 2007
30th June at Dorchester
.22 Rifle, Prone 10 shots at each of 2 targets; total = 200
Dorchester

25 yards International target, deliberate

25 yards
'Cadet' target,
rapid

Total

Richard Burden 2nd

96

98

194

David Carter

89

100

189

Ian Davison 1st

98

100

198

Mike White

84

93

177

David Jenkins

94

97

191

461

488

949

Bayeux

Jean-Pierre Bouin

90

98

188

Jean-Jacques Durrand

90

99

189

Marie-Claire France 3rd

94

98

192

Patrick Venara

72

82

184

Pascal Cosne

90

89

179

436

466

902
25 metre Black Powder Pistol Best 10 of 13 shots to count; total = 100
| | |
| --- | --- |
| Dorchester | |
| Ian Davison | 84 |
| Chris Britton | 66 |
| Steve Maros | 82 |
| Chris Slade | 78 |
| David Carter | 80 |
| | 390 |
| | |
| Bayeux | |
| Marco dal Pont 1st | 95 |
| Michel Huart 2nd | 94 |
| Jean-Jacques Durrand | 89 |
| Bernard Hamel | 89 |
| Jean-Pierre Bouin 3rd | 92 |
| | 459 |
29th June at Dorchester
10 Metre Air Pistol 5 shots at each of 6 targets; total = 300
| | |
| --- | --- |
| Dorchester | |
| Chris Mason 2nd | 274 |
| Tony Cooke | 190 |
| Steve Maros | 259 |
| Lucas Weschke | 250 |
| Gill Carter | 254 |
| | 1227 |
| | |
| Bayeux | |
| Jean-Jacques Durrand 1st | 281 |
| Marco Dalpont | 267 |
| Jean-Pierre Bouin 3rd | 268 |
| Bernard Hamel | 236 |
| Michel Huart | 264 |
| | 1316 |
Police Pistol 2 shots @ 20 yards, 12 shots @ 15 yards, & 6 shots @ '7 yards; total = 300
| | | | | | |
| --- | --- | --- | --- | --- | --- |
| Dorchester | 20 yards rapid | 15 yards snap | 7 yards snap | | Total |
| Gill Carter 3rd | 85 | 94 | 55 | | 234 |
| Rachel Parker | 80 | 65 | 19 | | 164 |
| Steve Maros 1st | 108 | 100 | 51 | | 259 |
| Steve Hubble | 81 | 103 | 43 | | 227 |
| Eric Parry | 71 | 90 | 50 | | 211 |
| | 425 | 452 | 218 | | 1095 |
| | | | | | |
| Bayeux | | | | | |
| Michel Huart 2nd | 104 | 105 | 48 | | 257 |
| Jean-Jacques Durrand | 100 | 90 | 44 | | 234 |
| Marco dal Pont | 102 | 80 | 48 | | 230 |
| Jean-Pierre Bouin | 88 | 58 | 44 | | 190 |
| Bernard Hamel | 97 | 83 | 54 | | 234 |
| | 491 | 416 | 238 | | 1145 |