Bayeux Tir Club v. Dorchester R&PC at Bayeux
Bayeux 3 Dorchester 1
Last weekend [17th – 19th June 2016] a team of rifle and pistol shooters from Dorchester Rifle and Pistol Club travelled to Bayeux for the annual competitions between the Clubs of the Twin Towns. This coincided with the 40th year celebrations of the foundation of the Bayeux Tir Club and the 30th anniversary of the first competition between the two Clubs in 1986.
At the St Martin range on Friday evening the Dorchester 10m air pistol team, weakened by the illness of key shooters, were easily overcome by Bayeux; 1325 to 1145 points. Jean–Jacques Durand was top score with 273 ex 300.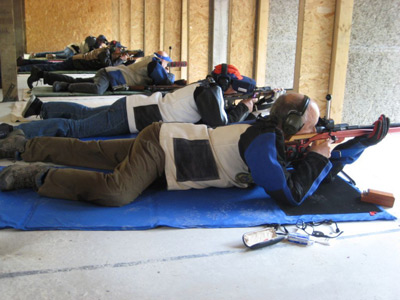 On an overcast and cool Saturday morning the rifle teams of 5 shooters fired 20 scoring shots each at both 50m and 100m. At 50m Dorchester led by 14 points [928 v 914] but at 100m Bayeux pulled back 4 points [966 v 962] meaning that Dorchester narrowly won by 1890 to 1880 ex 2000. Ian Davison was top scorer with 388 ex 400.
The Black Powder Pistol competition uses reproduction single shot muzzle loaded duelling percussion pistols. As the home team Bayeux were able to field a strong team whilst Dorchester had two shooters using borrowed pistols. Although Dorchester shot steadily, scores ranging 70 to 82, the Bayeux team were in a higher league – scores 79 to 93 – and came home winners comfortably 439 v 386 ex 500, led by Roger Grivel with 93 ex 100.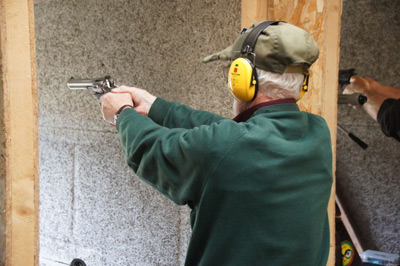 The final competition, Police Pistol, uses .38 revolvers prohibited in England so the opportunities for the Dorchester shooters to practice are extremely limited. Nevertheless the Dorchester team shot well on the advancing, rapid fire, targets and scored 809 against Bayeux's 821 ex 1080. Marco Dal Pont top scored with 199 ex 216.
On Saturday evening the Mayor and Council of Bayeux held a reception in honour of the combined 40th and 30 anniversary events. Afterwards over 50 members of the Bayeux Tir Club hosted a celebratory dinner at the Lion d'Or restaurant. In thanking the Bayeux shooters for their hospitality, and toasting the future of the Bayeux Tir Club, the Dorchester chairman, Richard Burden, recalled the success of Yves Collet and Bernard Hamel in establishing the Bayeux Club and, with Jim Thompson, forging the relationship with the Dorchester Rifle and Pistol Club.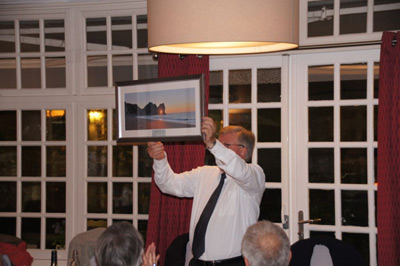 In recognition of their work in taking forward shooting between the Twin Towns and enhancing the shooting facilities at Bayeux he presented Honorary Life Membership of Dorchester Rifle and Pistol Club to both Pierrette and Jacques Lechevallier, their Treasurer and President respectively. As a memento of the occasion Dorchester presented Bayeux with a framed photograph of the sun dawning though Durdle Door on the World Heritage Jurassic Coast.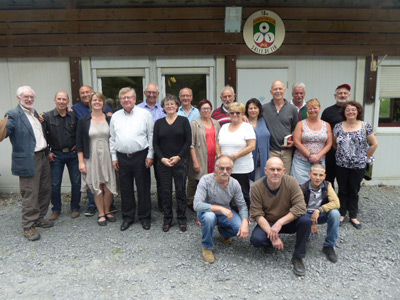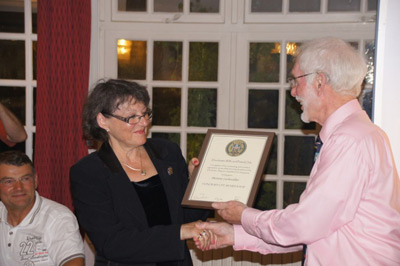 On Sunday the teams were welcomed to the village of Sennervieu, where a 1944 Battle of Normandy re-enactment and exhibition of memorabilia were being held, by the Mayor who had been a French teacher at the Thomas Hardy School Dorchester in 2003.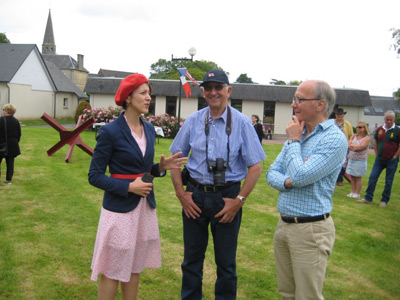 Richard Burden Chairman
24 6 16
Score Sheet