Dorchester R&PC v. Bayeux Tir Club at Dorchester
Dorchester shooters travelled to Bayeux last weekend [18th - 20th June 2010] for the 25th set of rifle and pistol competitions between the shooting clubs of the Twin Towns with three of the original team [Richard Burden, David Carter, and Ian Davison] who made the initial journey in 1986. This time they were delighted to include 4 shooters making the trip to Bayeux for the first time. Bayeux have a fine reputation for the quality of their 10 metre air pistol shooting and over the course of 30 shots for each shooter [maximum 300 points] Jean-Jacques Durand [275] and Michel Huart [272] led the home team to victory by 1328 to 1233. Nevertheless, Gill Carter [Dorchester] was third highest score on the range with 270.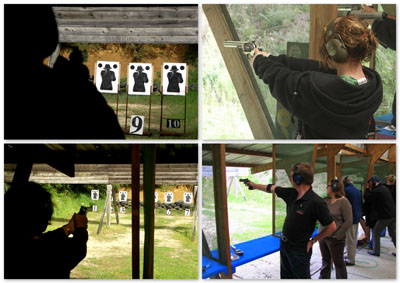 The Black Powder pistol competition, at 25m using replica historic arms similar to those used by highwaymen or for duelling, was keenly contested. The shooters measure their own powder and load the lead ball between each shot and because of the variability that provides they are allowed 13 shots with the best 10 to count for the match. Michel Huart [92] and Fabrice Goulet [89] were top scorers for the winning Bayeux team [441] with Ian Davison [88] top scoring for Dorchester [390].
The Police Pistol competition, shot against the clock on the advancing terrorist target with American style cartridge pistols that are not available in Britain, was closely contested. Serge Dufay [Bayeux 192 ex 216] led the way from Steve Maros and Ian Davison of Dorchester with 189 and 185 enabling Bayeux to win by 850 to 837.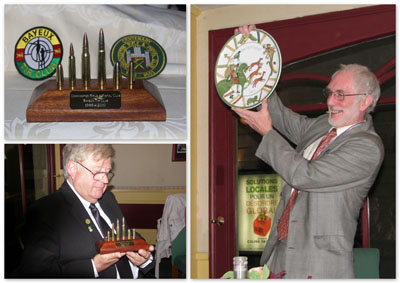 The rifle competition involves each of the 5 shooters in the teams having 40 shots; 20 at 50m and 20 at 100m. The conditions on the range in the old sand pit at St Martin, on the east side of Bayeux, are never easy. This year the fluctuating light and unpredictable swirling wind did not favour the home team. All the Dorchester team scored higher than any of the Bayeux shooters even though their youngest shooter, Julia Huart, scored a creditable 373 ex 400. Dorchester scored 932 against Bayeux's 877 at 50m whilst at 100m Dorchester increased their lead with 966 against 944 to run out winners with 1898 to 1821. Ian Davison [387] and Richard Burden [382] were top scorers.
Score Sheet