Dorchester R&PC v. Bayeux Tir Club at Dorchester
Last weekend [20th- 22nd June] Dorchester Rifle and Pistol Club shooters travelled to their twin town of Bayeux for the annual rifle and pistol competitions that have now reached their 23rd year. This was the twelfth team to visit Bayeux since the competitions started in 1986.
After a traditionally generous welcome party on Friday evening at the Bayeux clubroom, Saturday morning was overcast and humid for the 50m and 100m prone rifle competition at the St Martin open air range on the eastern side of the town. Dorchester fielded three of the team from the original competition whilst Bayeux introduced a new young shooter, Julie Huart, into their team of five. Both the light and the hesitant wind made conditions difficult but Jean-Pierre Bouin shot consistently at both ranges to top score on 376 ex 400, 9 points head of Richard Burden [367] and Ian Davison [365]. The Bayeux team shot unusually well at 100m and the scoring of the targets became quite tense when Bayeux posted 872 against Dorchester's 855 for 100m. Dorchester shooters know Bayeux are good at 50m but in the final detail good scores of 191 and 189 by Richard Burden and David Carter helped Dorchester to take the trophy by just 2 points, 1770 to 1768.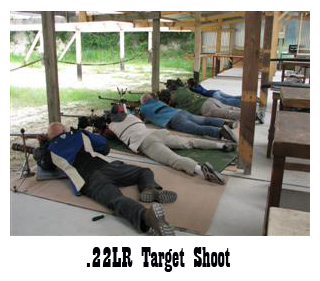 The other competition of the morning was the indoor 10 metre air pistol competition of 30 shots for each firer. Bayeux are traditionally very strong in this discipline and this year their top scorers were excellent. Francoise Huart [280], Jean-Jacques Durand [274], and Fabrice Goult [274] were at least 7 points ahead of Dorchester's top shot [Steve Maros, 267]. Bayeux won convincingly by 1354 to 1199 but Dorchester had the consolation of seeing Gill Carter achieve her highest score in these shoulder to shoulder competitions.
After a leisurely lunch beside the range, the black powder pistol competition was fired at 25m with reproduction antique duelling percussion cap pistols or American Civil War style percussion cap revolvers. Each shot is individually loaded by the firer and the rules allow 13 shots with the best 10 being counted for the score. The top three scorers were very close, with Francoise Huart [93] one point ahead of Steve Maros [92], who was also one point ahead of Fabrice Goulet [91]. Bayeux's strength in depth on home territory enabled them to win by 440 to 388.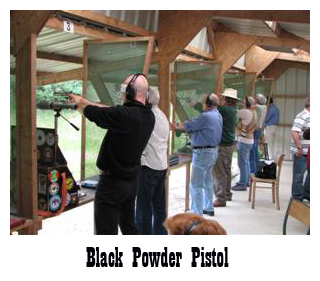 The final shoot was the rather dramatic rapid firing at advancing targets with centre fire revolvers known as the Practical, or Police, Pistol competition. Not being allowed by law to use these types of target guns at home the Dorchester shooters had to rely on experience gained with short range, low power, air pistols which are, nevertheless, quite different. Marco Dalpont [317] and Jacques Tabourel [306] led from Ian Davison [300] and Steve Maros [295] with the rest of an extended field 30 or more points behind. In the circumstances Dorchester put up a very creditable performance with Bayeux winning by 1351 to 1334.
The prizes were presented, along with souvenirs of the visit, during a celebration dinner on Saturday evening at the famous Lion d'Or hotel, surrounded by photographs of the celebrated generals, politicians, and stars that have stayed there.
Richard Burden Chairman
RFB 23 6 08
Dorchester v Bayeux 21 June 2008 at Bayeux Results
.22 Rifle
| | | | |
| --- | --- | --- | --- |
| Dorchester | 50 metres | 100 metres | Total |
| Richard Burden | 191 1st | 176 | 367 2nd |
| Ian Davison | 186 | 179 3rd = | 365 3rd |
| David Carter | 189 2nd = | 170 | 359 |
| David Jenkins | 175 | 180 2nd | 355 |
| Mike White | 174 | 150 | 324 |
| | 915 | 855 | 1770 |
| Bayeux | | | |
| Jean-Pierre Bouin | 189 2nd = | 187 1st | 376 1st |
| Marie-Claire France | 184 | 179 3rd = | 363 |
| Julie Huart | 183 | 176 | 359 |
| Jean Jacques Durand | 173 | 175 | 348 |
| Michel Huart | 167 | 155 | 322 |
| | 896 | 872 | 1768 |
10 Metre Air Pistol
| | |
| --- | --- |
| Dorchester | |
| Steve Maros | 267 |
| Gill Carter | 260 |
| Chris Slade | 251 |
| David Carter | 223 |
| Martin Cake | 198 |
| | 1199 |
| | |
| Bayeux | |
| Francoise Huart | 280 1st |
| Jean Jacques Durand | 274 2nd |
| Fabrice Goulet | 274 3rd |
| Michel Huart | 265 |
| Marco Dalpont | 261 |
| | 1354 |
25 metre Black Powder Pistol
| | |
| --- | --- |
| Dorchester | |
| Steve Maros | 92 2nd |
| Martin Cake | 87 |
| Ian Davison | 85 |
| David Carter | 73 |
| Chris Slade | 51 |
| | 388 |
| | |
| Bayeux | |
| Francoise Huart | 93 1st |
| Fabrice Goulet | 91 3rd |
| Jean Jacques Durand | 89 |
| Serge Dufray | 84 |
| Bernard Hamel | 83 |
| | 440 |
Police Pistol
| | |
| --- | --- |
| Dorchester | |
| Ian Davison | 300 3rd |
| Steve Maros | 295 |
| Eric Parry | 265 |
| Gill Carter | 261 |
| Richard Burden | 213 |
| | 1334 |
| | |
| Bayeux | |
| Marco Dalpont | 317 1st |
| Jacques Tabourel | 306 2nd |
| Jean-Pierre Bouin | 256 |
| Michel Huart | 252 |
| Jean Jacques Durand | 220 |
| | 1351 |